---
Amazing Lightshows on Buildings
Posted: 20 Oct 2011 09:17 PM PDT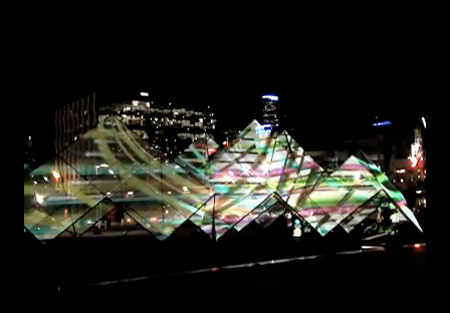 Two of the most ingenious means of creativity the world has to offer are architecture and lighting. Weíve recently seen an explosion of innovative lighting shows which grace amazing buildings around the globe are creating artistic splendour combining the brilliance of both.
Here is an exploration into the most outstanding 4D light shows on buildings of recent times. We also explore five of the most impressive modern architectural achievements which have embraced innovative lighting as part of their design.
Lumière Festival, Lyon
During Lyon's annual four day festival which runs each December, The Eglise St Nizier, a Lyonais church of Gothic and Renaissance played host to a spectacular 3D light show in 2010.
The building's facade transformed when the arches and brickwork morphed and came to life to the amazement of onlookers.
The audience then took over by voicing noises and vocals into a system which translated into visuals projected onto the building. In effect, the audience embodied the building!
Administration Building of Kharkiv, Ukraine
In honour of the city and its Independence Day, a fantastic light show was projected onto the building on 24th August 2010.
This truly was a show to remember! Areas of the façade appeared to crumble away to the amazement of onlookers, and even an aeroplane flew towards the crowd!
Vimeo Festival, New York
The conclusion of the first Vimeo Film Festival and Awards in New York on 9th October 2010 was a fantastic one.
A spectacular architectural project mapping piece illuminated the IAC Building with imaginative 4D graphics, lighting and soundtrack.
Hamburg Kunsthalle, Germany
This world renowned art museum situated in Hamburg was host to one of the most elaborate 4D projections so far.
Based on the outstanding architecture of the Kunsthalle, the concept was to manipulate and reinterpret its geometry and aesthetics in an imaginative way through the use of graphics and movement. The transformation of spatial conception is astounding.
RL's Madison Ave Store, NY
On 10th November 2010 in celebration of a decade of digital innovation, Ralph Lauren's flagship store in New York presented an ultimate fusion of art, culture, fashion and technological splendour when the building's faced became a 3-dimensional catwalk and a medley of various images and objects. A truly spectacular visual display.
Moscow State University, Russia
In celebration of Moscow's 864th birthday, the Moscow State University building was transformed into a 25,500-square-metre screen with a spectacular 4D light show masterminded by David Atkins.
The show which entered the Guinness Books of Records for being the world's largest ever laser show, featured a flaming phoenix and innovative graphics depicting the buildingís structure and even paid homage to ground-breaking technology such as the Apple iPhone.
Sydney Opera House, Australia
Designed as part of the Vivid Sydney Festival during May and June 2011, the front of the Sydney Opera House saw its sails illuminated in an inventive and inspiring way, celebrating creativity, music and light.
Guggenheim Museum, NY
On October 21st – 22nd 2010 at the Solomon R. Guggenheim Museum New York, YouTube teamed up with the museum as part of the company's YouTube Play initiative to discover and showcase the most exceptional talent working in the ever-expanding realm of online video – projecting this brilliant projected video show onto the building.
Other Dazzling Facades
In addition to the fantastic light shows on buildings, there are also some truly amazing architectural masterpieces that have incorporated light shows as integral to their design.
Such innovation takes architecture to new levels, illuminating structures and adding new dimensions. Here are some of the world's greatest buildings which have embraced innovative lighting techniques along with their structures.
The Water Cube, Beijing, China
Originally the Beijing National Aquatics Centre and one of the homes of the 2008 Olympics, is the largest structure made of the translucent plastic-like material (ETFE) and allows more light than normal glass hence the beams of light can penetrate the material further.
The LightScraper, Victoria, Australia
LightScraper from Vj Vespertine on Vimeo.
This innovative building features real-time 3D graphics with a human motion tracking system gives the structure a combination of visual and sound consequential of its environment.
The Rundle Lantern, Adelaide, Australia
Rundle Lantern Launch from Fusion on Vimeo.
The building uses thousands of LED's to illuminate its structures 748 square panels and projects and ever-transforming platform of unique digital art.
Kubik, Berlin, Germany
kubik hamburg from capitan on Vimeo.
The Kubik is a light-room installation open-air club in the heart of Berlin, Germany's cultural centre. This amazing design incorporates a unique fusion of water tanks, light shows and electronic music.
The Agbar Tower, Barcelona, Spain
This amazing structure consists of more than 4,000 tiny LED lights and stands 51,000 metres. Its nocturnal lighting projects a myriad of images from approximately 16 million colours. Designed by Yann Kersalé, it is championed as one of the most sophisticated systems of building light innovation in the world.
About the author: Paul Dimmock writes from Culture Label; a London based, online creative department store for unique gifts and affordable art prints. All art works are carefully chosen from partnered artists and designers.
You are subscribed to email updates from Design daily news
To stop receiving these emails, you may unsubscribe now.
Email delivery powered by Google
Google Inc., 20 West Kinzie, Chicago IL USA 60610